Reduce, reuse, reinvent! Do you have that sentimental piece of furniture, that you just can't seem to part with? Maybe its in decent condition, but looking somewhat tired & drab. Let an interior designer solve your upholstery dilemma, and reduce your carbon footprint at the same time! Partnering with businesses specializing in textiles & custom upholstery services, an interior designer will greatly take the lead in bringing those old and dingy furniture pieces, back to life in your home.
A pattern is either right or wrong…its no stronger than its weakest point.
Contemplating to revamp that dowdy old chair, but uncertain of where to begin? Paisley, Jacquard, Geometric or Plaid where does one even begin! Whether your drawn towards a fabric that is more modern & relaxed, or choose to continue with a style more traditional be sure to stay focused on your project at hand. With a kaleidoscope of colors & infinity of styles, its easy to become overwhelmed. Just make it your intention, amidst the enthusiasm, to be mindful at the same time.
Factors to account when selecting upholstery fabric & textiles
Appearance (Style & Scale)
Texture
Wearability
Cleanability
Sensitivity to direct sunlight
Trendy new styles can easily intrigue, the fabulous fashionista in us all. If you've discovered a vogue fabric that you positively must have, consider if you'll feel the same, in five years. The upholstery of furniture can be costly, so the fabric you select should logically withstand, the ultimate test of time. If you impulsively choose fabric, based on up to the minute trends, you'll be destined to regret of an expensive mistake.
Look for fabric with colors, patterns & textures, that not only enhance the décor of the room, but that also suit the style & the frame of the piece. A daintier shaped chair, with curvatures & bends will be at odds when fashioned with a bold faced geometric. Where as a masculine robust, urban style form will look comical clothed in, a frenzy of florals.
The esthetics of a textile are undoubtedly important, but what other aspects regarding upholstery, should you also think to consider? Reflect on the typical use of the piece. If you have children, pets, or an accident prone spouse, you'll want to search for fabrics that are durable & long-lasting, as well as relatively easy to keep clean. A textile you select for a piece that is subject to constant wear, will need to be more durable compared to that, of a furnishing in a seldom used space .
Like anything, you get what you pay for with fabric. The durability, finish, pattern & grade, will all be factored into the overall cost. When scouting out textiles, inspect the back label. The grade of a fabric is indicated usually, by either a number or letter. The grade of a fabric thus depicts, how expensive a fabric was to make. A meticulously detailed, lavish style fabric, may proudly display a high grade. Its essential to be mindful however, that because a textile has a high grade, does not prove a fabric to be more durable, or of an inferior quality, than one that is far less expensive. Its also important to note, that grading scales tend to vary, from one manufacture to another.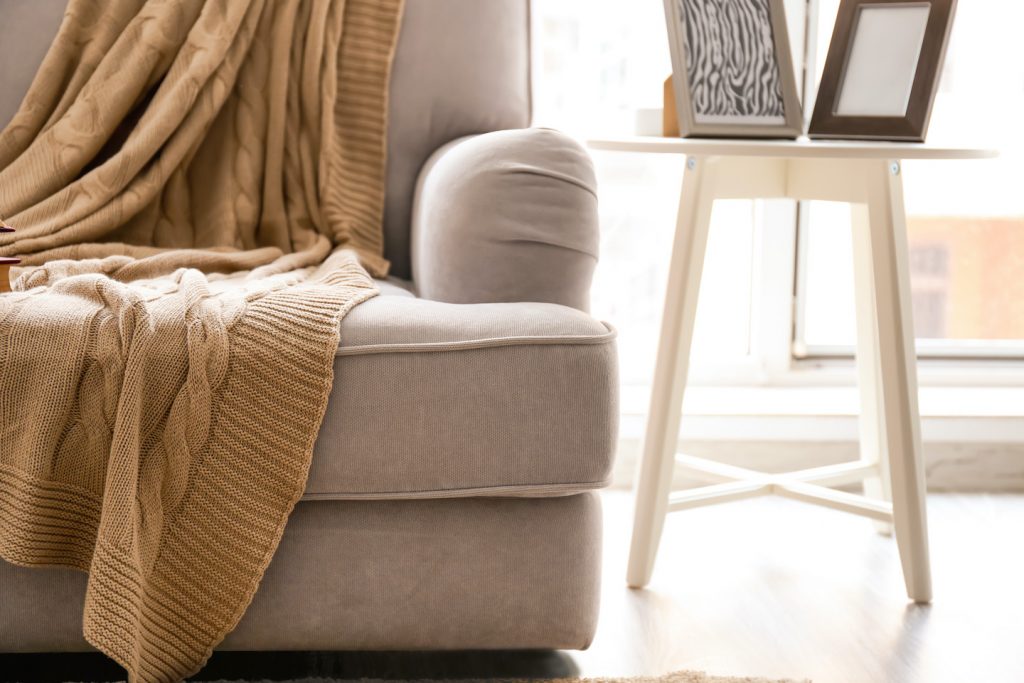 DR stands for "double rub," which is a testing method used, to determine a fabrics strength. The higher the DR, the more durable the fabric. If the upholstery fabric has a DR of 30,000, it takes 30,000 motions, back & forth, until the fabric wears through. Furnishings in you home that are exposed to high traffic, should commit to a DR minimum of 45,000. Tightly woven fabrics wear best, so consider that fabrics with a pattern woven in, will also wear much better, than fabrics with prints.
Most high quality, upholstery fabrics have a stain-resistant finish, which act to resist & repel. To test, drop a slight sum of water onto the fabric, if it repels the fabric is protected, but if it soaks the fabric will stain.
A lot of people worry about the "wear and tear" on furnishings. I feel its more of a matter of people treating the things that surround them with respect.
Natural Fibers
Natural fibers include: cotton, wool, silk, linen & leather. These fibers tend to tailor relatively well, feature flat weaves that are perfect for prints & have fibers that are very soft. Natural fabrics are not nearly as durable as synthetics, thus they are more at risk to damage, from daily wear and tear.
Many classic homes enjoy the relaxed look of linen. Although it wrinkles easily & found typically in its natural colored state, its simplistic styled nature is adored by many.
Comfortable, cozy, & soft to the touch, cotton is praised for its extreme versatility. Available in limitless colors, textures & patterns, one is likely to find a style, well suited to their home. Cotton is often blended with other synthetic fibers, to increase the durability & longevity of the fabric.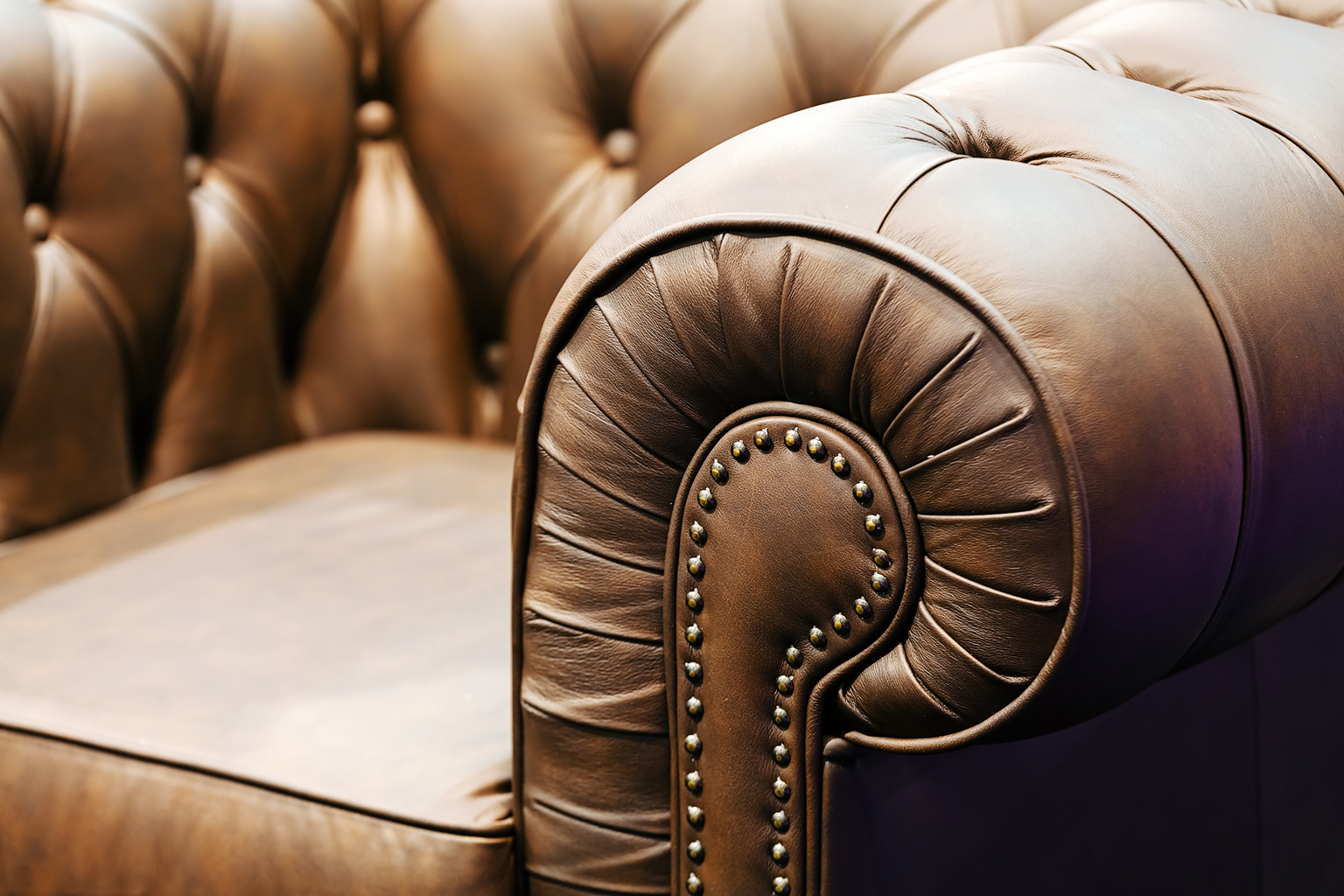 Favored for its rich, sophisticated appearance, silk is often used, in formal mature settings. Luxurious, exquisite & soft to the touch, silk is also, hypoallergenic. Due to its extreme vulnerability & weakness to the sun, precautionary measures should be taken, to increase the lifespan of silk in your home.
Quick, simple & easy to clean, leather styled furnishing favorably require, a minimal effort to maintain. As the natural fabric choice for a variety of homes, those who prefer textiles with a warm & plush feel, leather is not the best option. Although limited, in both color & pattern selection, leather still offers an assortment of great looks. Tasteful design elegance for the sophisticated & chic, to a handsome & rustic, urban styled flair.
Furnish your room for conversation and the chairs will take care of themselves.
Synthetic Fibers
The most common synthetic fibers used in upholstery, are rayon, polyester & nylon. Synthetic fibers are derived by the means of oil & coal, thus they are not considered, to be environmentally friendly. Generally, synthetics are cheaper, & considered more durable than natural fibers simply due to their resistance, to discoloration, fading & stains. Nowadays the market offers a variety of textile blends, composed of both natural & man made fibers. People tend to gravitate towards these mixed blends, as they offer the top benefits of both fiber types.